How Do Clothing Rental Companies Work???
There's no doubt that clothing rental has taken serious root in the fashion industry. The earliest form of this circular model involved going into a brick-and-mortar store to pay a fraction of the price for expensive things you'll only wear once like a prom dress, bridesmaid's dress, or tuxedo. The rest of what you wore was your own. But these days it seems we only want to wear most of the clothes we buy once. With this in mind, plus some help from a little thing called the internet, Jennifer Hyman and Jennifer Fleiss took the modern shopper out of the stores and met her demand for an "endless closet" online--and thus, as the first company in the U.S. to show us clothing as a service (CaaS) and now valued at $800 million, Rent the Runway was born. 
So what does "clothing as a service" look like? 
Well many of the major companies have their own features, but in general, they work with retail brands—specifically with the designers—to decide what clothes will be available on the platform. In return (well, and in addition to buying their clothes), the CaaS brand transfers an enormous amount of valuable customer data to the designers who are seeking to make what people want. Speaking of the people, they keep their closets in rotation with an online subscription to their service of choice: for a monthly fee, customers often have a certain number of items they can receive in the mail in a given time period. Included in this fee are the shipping and washing services. At the end of the rental period, shoppers have the following options: ship back the clothes in exchange for a new set, rent items again, or keep what they love for full price. Returned clothes are thoroughly (usually dry-) cleaned before they're ready to go to the next person. I think that covers the basics. 
Let's look at Rent the Runway's particulars as an example:
Subscription Terms: $69/month for 4 items a month and 1 shipment; $135/month for 8 items a month and 2 shipments; $149 for 16 items a month and 4 shipments (notice you're always getting 4 items at a time)
Noteworthy details: closet is ever changing; selection of mainly designer clothes that typically retail at over $200, with the most expensive item being over $2000
Similarly, Le Tote offers a less designer selection for lower subscription prices:
Subscription Terms: starts at $59/month, $79/month for 8 items, $99/month for 10 items, $119/month for 15 items
Noteworthy details: option for cheaper subscriptions with exclusion of accessories
Which retail brands offer clothing as a service?
Since the undeniable success of RTR (and upon noticing that the worldwide online clothing rental market is projected to be $2.08 billion by 2025), many retail brands themselves have jumped on the rental train by creating their own platform. Changing or adding to a business model is always a risky decision, but even some older luxury brands have realized that to remain relevant in the industry, this is a risk better taken sooner rather than later:
Platform: Ralph Lauren —The Lauren Look (8)
Subscription Terms: $125/month; receive 4 items at a time
Noteworthy details: unlimited 4-item exchanges for the entire month 
A younger, trendier Urban Outfitters has their own service that is promising success, bringing in $8 million in revenue and 27,000 subscribers in 2020, it's first year (although it wasn't profitable) (9):
Platform: Nuuly 
Subscription Terms: $88/month for 6 items (10)
Noteworthy details: clothing selection from stores owned by URBN including Urban Outfitters (obviously), Free People, and Anthropologie, plus some third party brands; can't return clothes that don't fit before the next month
Additional Clothing Rental Game Changers
One interesting player in this game—whose presence confirms where the market is heading—
is a company called CaaStle. They themselves are a service to retail brands who want to add clothing as a service to their business model, but don't have the resources to develop all that goes into it—it is an entirely different operation after all. CaaStle handles everything to do with the subscription: "website, databases, algorithms, and analytics." All the retailer has to do is provide the inventory. CaaStle brings a surprising piece into the rental world: brands that work with them offer customers a "wishlist-mystery bag" system. This means shoppers make an initial "wishlist" on the store site and then receive a monthly "mystery bag" hopefully with at least some of the items they want most. A few clients of CaaStle where you'll find this model are Banana Republic, Express, Destination Maternity, and Loft. Sidenote: it's a bit bold to assume people are okay paying for clothes they didn't choose, but Christine Hunsicker, CEO of Caastle, says, "[w]e've taken a bet that people would rather have higher quality clothing with less control." The other perk of this system is that people don't have to keep spending time looking for things they want; they just get clothes shipped to them monthly. I'm not so sure how I feel about this though…
On the less big-corporation side of things, By Rotation is a site/app where you, yourself can lend to and rent from other people—it's essentially Poshmark+RTR. Pretty simple. 
The Cons of Clothing Rental Platforms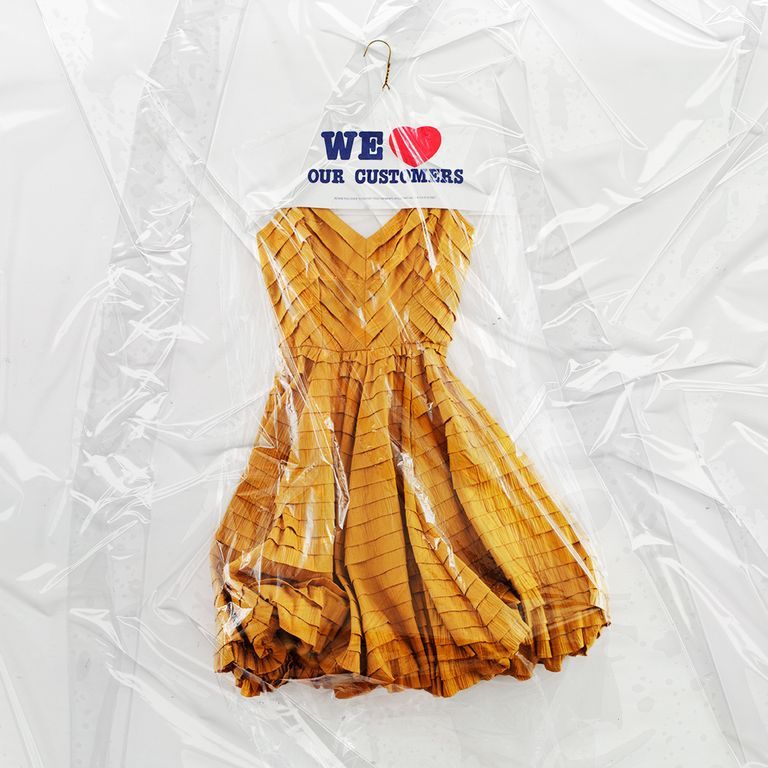 There are undoubtedly a lot of pros around clothing rental: there's more variety to your closet with less waste and clutter, a chance to experiment with your true style and/or keep up with trends, and the ability to wear expensive clothes for way cheaper than buying. 
However the system is not perfect and there are still some things that don't look so great as we try to figure out how to do fashion on a mass level. While renting all your clothes seems like the perfect solution for fast fashion and its host of environmental detriments, it has its own issues: 
The shipping back and forth is constant, which in addition to being very annoying what with the waiting for packages and having to go to the UPS store, also adds to the problem of carbon emissions. 

To keep garments like-new for each temporary owner, cleaning the clothes is also nonstop, expensive, and bad for the environment. In fact Hyman of RTR said that

"being in the rental business essentially means operating as a dry cleaner.

"

In order to profit, most companies have a subscription model that limits the clothing selection and quantity. In the case of CaaStle clients, people may also pay for things they do not want in their "mystery bag." Plus, there have been some negative feelings toward having to continuously update the wishlist feature. 
What about clothing rental without a subscription? 
Ponybox Clothing Co. offers all the perks of clothing rental, and because it operates on the local level in Charlotte, NC, it delivers (pun intended) on even more. First, shoppers in Charlotte can order as little or as many clothes as they want for a fraction of the original price and have it delivered as soon as the same day...insane! Then you can keep the items you selected for a week before our Ponies come back to pick them back up from you. If you love something and need it in your life forever (or at least a while), you can just pay the difference between the rental and original price. Notice how you don't leave your house for any of this...alright, alright. Full details on how it works here. 
Let's look at the full list of pros:
No subscription—way cheaper and you only pay for what you want when you want

Can receive and return clothes as easily as you order food to your door

Super bomb clothes. We are targeted toward people who want to keep up with the trends (or maybe start their own). This means we could never be accused of having a boring selection of work clothes or clothes that were made for the drama of NYC and not for the hangouts in your hometown.

Comes in a cute box

Same day delivery (for local peeps) or scheduled delivery available. Free for orders over $20, plus shipping is still an option

Sustainability and ethicality is at the forefront of who we are. All clothes are sourced from sustainable brands with missions similar to ours, and the circular business model is especially important to us in our effort to reduce waste and pollution.
As with most things there a couple of cons and there are some things we still have to think about:
While the no-subscription thing mostly rules and you can order as many clothes as you want, technically shoppers don't have an "endless-rotating closet" in the same way that something like RTR offers. Really it's up to the consumer to decide if this is a con or not. 

Not a lot of repeated inventory so something you want might be out for rent
Delivery and pick-up on a local level is way better for the environment than the constant shipping of major rental services. However, the system needs work upon expansion as there would still be a lot driving involved, increasing our carbon footprint. 

Same thing goes for washing the clothes. If we have several locations, we might not use tons of water to keep making garments, but we would use a ton for clothes to remain reusable. 
All in all, there's a lot to think about if we want to truly revolutionize the fashion world with clothing rental, but we're kind of obsessed with figuring it out at Ponybox so...see you in the future!
References