Description
Channel your inner Elle Woods in this absolutely fabulous hot pink strappy asymmetrical dress. This eye-catcher is paired best with heels and a dainty little purse for a fancier "night out" look. The lightweight material and loose fit makes it an effortlessly glamorous outfit while staying super cool and comfortable throughout the day and evening.
Customer Reviews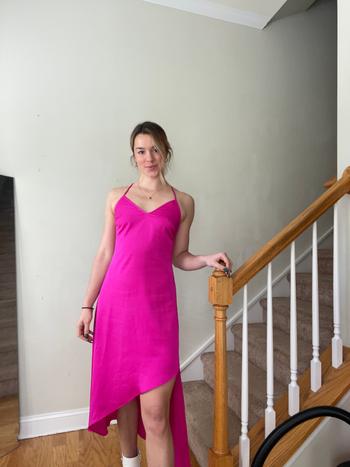 12/14/2021
Hot pink dress!
Love this dress! I wore it to a wedding and it was the perfect balance of sexy and fun!!
Hellen

United States
10/25/2021
Great dress rental!
I rented this for a wedding rehearsal dinner/welcome party and loved it. The dress is super light weight and the straps are adjustable. I ended up not needing a bra with it, but if you don't feel comfortable doing that you'd definitely need the right kind of strapless as the straps are thin. I got a ton of compliments on the color of this dress and will definitely be renting again!
Alexia W.

United States
09/12/2021
So fabulous!!
This dress was perfect!! I rented it for a wedding and it was amazing! It fit very true to size and was flattering on my big shoulders!
Ella

United States